M is for Mystical Moon Mantra,
M is for Mother,
M is for the Man Who Fell To Earth…
It's been quite a year so far now, hasn't it?
I really must say that the death of David Bowie hit me a lot harder, and at quite a different angle, than I would have expected; largely this has to do with the parallel/proximity to the anniversary of my mother's death (as you might have guessed).
Ruminations on mortality, cancer, and a prescience of one's own pending demise have been swirling through my mind since this post earlier in January. I downloaded Blackstar, Bowie's final album (officially released on his birthday, January 8, which was only two days before his death) on Monday the 11th–due to my sleep/wake schedule, I did not learn of his passing until that morning. The profundity of this enigmatic work of art being created by an icon who knew his days were numbered resonated quite strongly with my many experiences of realization around how much my own mother prepared for her pending death. In some odd way that only an artist and empath can truly claim, these two events are now fated to be intertwined in my consciousness for the rest of my days.
One of the things I've grappled with this winter–a thing that seems to be a common thread with many loved ones I've spoken with–is an intense feeling of frustrating inertia; it's been as though my biology forced me into a lethargic hibernation. On the one hand, this seems only natural as part of the cycle of the year, but nonetheless I was caught off guard by how thoroughly I was gripped by this seasonal depression…and let's face it, however much that slowing down in the cold months may be natural, as humans and Westerners, we are simply not compelled to surrender to mere biology. The worst part has been the way this has felt suppressive of my creative impulses (which regular readers of my blog should recall has been an ongoing struggle for me as I've tried to get/keep the ball rolling with this website).
Well, as last Saturday's Full Moon approached, I suddenly felt inspired to do something…something that would honor the legacy of Bowie (and therefore somehow also my Mother, as explained above)…something that would symbolically claim a fragment of the massive creative power that he shared with the world…something to remind me of my own spark of artistic divinity and to hold me accountable to the sacred duty which that implies.
So, as the sun set and the moon rose last Saturday, Andrew and I entered the tattoo shop where, in July of year 2000, I received a tattoo as part of a spell to help me move to San Francisco, and it was there that I had this put on my skin, centered on my solar plexus (the location of the third chakra):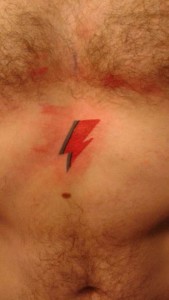 M is for Music,
M is for Mushrooms,
M is for Making Merriment…
While I realize that it's a rather questionable idea to go jump onto a hot, sweaty, crowded dancefloor just hours after receiving fresh ink, there was nothing that was going to stop me from going out to Beatbox that night to indulge in some lunar mania and ecstatic dance. We had been looking forward to this particular party for weeks; with the name of Anthem, its concept was deceptively simple (and in some ways, so obvious that I have wondered why none of us made it happen years ago): a night dedicated to playing absolutely nothing but everyone's favorite dance music anthems from the past 30 or so years. I was 100% certain that this was going to be a winning idea and a night of pure bliss, and it did not disappoint. What was meant to be an event that ran only until last call ended up extending until 4am, and after the last song played and lights came up, I thanked Brian (the club's proprietor and one of the evening's DJs) profusely for this amazing gift to the community. I told him that so many of us who had attended have been feeling stuck in such a dark, wet, wintery place of sadness, and this party had felt like the shock paddles that EMTs apply to a flatlining patient. (Hmm, another example of electric energy.)
This week has been fully loaded with activity; some creative, much of it wedding-related, but all of it infused with a new sense of peace and hopeful intention for the pending spring. The details of the marriage ceremony and reception have been falling into place with a synchronicity that is simply beautiful; in truth, this shouldn't be any surprise, since Andrew and I both regard our pending nuptials as a truly sacred ritual–nothing less than the spellcasting of a lifetime.
I have identified as a Witch for almost my whole life; I first felt an intuitive draw to the ethereal arts at age 8 or earlier, and began formally studying alternative spirituality at 15. While these beliefs and practices have certainly played a major role in shaping my daily life, I realized sometime last spring that I was being called to bring these things back to the forefront of my consciousness. Through work with my therapist, I've come to realize how much my spirituality had been dampened by my addiction to crystal meth, along with my capacity to connect to my emotions and to live Wholeheartedly (as described by the amazing researcher Brené Brown). To that end, this past October I chose to take a new title: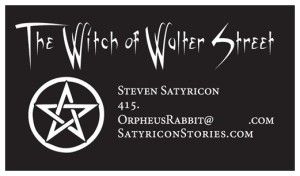 M is for My Mate,
M is for Marriage…
M is for Magic.
My time of playing small has passed. I will not be afraid of living every moment of my life as the amazing, magical being that I was born to be. I am an artist; I am a performer; I am a lover, and I am a witch.
And this year, the world is going to find out just what it looks like for me to live these truths.
Blessed Be,
Namasté.